July 31st of this year started off like any typical summer day for our friend, Rex, but before the day was done, things would change dramatically.
Rex was working with his program manager, Joel, that day. Rex and Joel had been together for many years and they had built a great staffing team that worked together like a well-oiled machine. Rex had been out of an institution for over 25 years and enjoying a great life in the community, supported by direct support professionals he loves and trusts, surrounded by friends, doing things he enjoys.
On that last fateful day in July when Rex and Joel were on their way back to Rex's home after being out and about, Joel seemed a bit spacey. He drove by Rex's house and when Rex asked him where he was going, Joel didn't answer. Joel became unresponsive and drove off the road into a ditch. Rex was able to get himself out of the car but Joel was still out cold. Soon the vehicle caught on fire. Rex struggled to unfasten Joel from the car and get him out of the rapidly growing fire. In the process of trying to save his friend, Rex was severely burned and unfortunately, Joel died in the crash. He lost consciousness due to a diabetic event.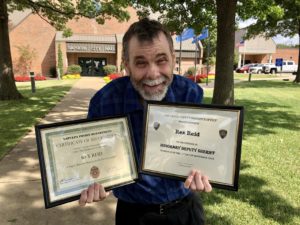 The ambulance and police officers who arrived at the scene were amazed at Rex's heroic efforts to save his friend. On September 11, 2018, the Sapulpa, Oklahoma police department and the Creek County Sheriff department held a public recognition on the lawn of City Hall. The Police Department recognized Rex's bravery and the Sheriff's Department made Rex an honorary deputy sheriff.
We are all terribly saddened by our loss of Joel. He was a smart and dedicated program manager and a loving and loyal friend to Rex. In our sadness we are proud to celebrate our friend Rex, who demonstrated such bravery when faced with a terrifying situation.