My friend Melissa loves Bonnie Bell cosmetics like no one else I know. Specifically, she loves the Lip Smackers and more specifically, she loves the Dr. Pepper and 7-Up flavored ones. Over the years, Melissa developed a special relationship with Patty who worked at Bonnie Bell.
The Bonnie Bell plant is located in Lakewood Ohio, just outside Cleveland. Melissa would call her friend every week, just to touch base, tell her how her week has gone and what is going on in her life. In return, Patty was a great listener, asked questions, gave Melissa advice and let her know of any new products that are coming out from Bonnie Bell that she thought Melissa may be interested in. Melissa would in turn go to local stores looking for those products and let those employees know what was coming and when. She wouldn't be too happy when JC Penny or other stores didn't stick to Bonnie Bell's timeline to release a product she was waiting on. Every Birthday and Christmas for several years, a box of Bonnie Bell would arrive at Melissa's home sent by her friend. She would also receive items throughout the year just for asking.
In the early 2000's, Melissa was invited to come to Ohio and visit Bonnie Bell. I had the pleasure of being one of the people that got to take this trip with her. We rented an RV, loaded up and headed to Ohio. We arrived in Lakewood, Ohio to fanfare—they were ready. We had a person dressed as a Lip Smacker and the employees at the office greeted us with balloons. Everyone who worked in the Bonnie Bell administrative offices knew of Melissa and several of them would also be on the receiving end of the phone calls. Bonnie Bell is a family owned private company that doesn't allow tours. However, they made an exception and Melissa got a tour. Our tour was conducted by the current CEO, the son of the founder. We got to walk the plant floor, meeting employees and getting a demonstration on how those lip smackers were made. We were then treated to lunch in the Executive dining room, joined by the wife of the founder along with other employees. Bonnie Bell no longer had the rights to create a 7-Up lip smacker but the CEO had his chemists make one just for Melissa without the official label. We were given a box of sample make up and Bonnie Bell t shirts as well as a gift card to Red Lobster (Melissa's favorite restaurant).
While in Ohio we took in some of the other sites such as going to Lake Erie, hunting down a lighthouse, going to the Rock and Roll Hall of Fame and visiting Sea World. My favorite memento of the trip is a silly photo of Melissa, Cathy and me posing on an orca.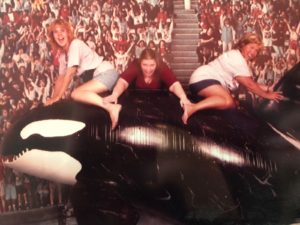 I was so impressed by the kindness of everyone we encountered on this trip and my friend Melissa was in absolute heaven. They made every effort to make this a trip Melissa would never forget. As soon as we left to head home, she wanted to know when we could return. Unfortunately Bonnie Bell the company as she knew it is no longer in existence but those relationships Melissa created were special to her and important for her while they lasted and I'm sure something that stays in her memories forever. If you ask her about Bonnie Bell, Patty or this trip, you will see a smile.