Back-to-school time is fun and exciting. It's also expensive: new clothes, new shoes, school supplies, sports and club fees. Choosing heart work over money work can mean that back to school time is rough for parents who are Direct Support Professionals (DSPs). DSPs are the employees who provide supports to people with intellectual and developmental disabilities (ID/DD). DSPs help people learn life, social and communication skills. They help them maintain their homes, prepare meals, find and keep jobs, participate in community activities and support their relationship with friends and family. This is very important work!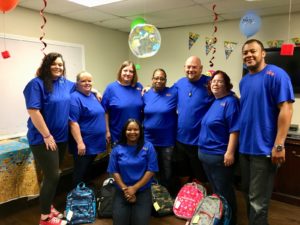 The important work DSPs do is funded by state and federal dollars. The legislature allocates the money to state agencies and the agencies develop budgets and determine the reimbursement rates. It is those hourly reimbursement rates that are used to pay providers, like Bios, for the services provided by the DSPs. Current reimbursement rates are inadequate to provide a living wage for DSPs. They have to be financially creative to make life work on the wages of their heart work.
To help relieve some of the frustration for DSP parents with school-aged children, Alisha McConnell, BiosHome Sapulpa-Tulsa Area Director, led her team of lead program managers to host a school supply drive. From the drive, they were able to assemble over 100 backpacks stocked full of school supplies.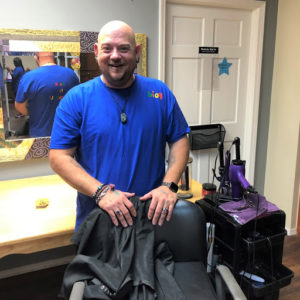 Knowing that looking good often means feeling good and confident, our own Samuel Markcum provided free haircuts to all the children. Sam is a part time DSP, former lead program manager and is also the owner of Beauty Works in Sand Springs, Oklahoma. Sam provided 15 haircuts and says he enjoyed the fact that this was a team effort and it was great for our employees. Sam has been on the other side of this situation and knows that getting back-to-school supplies, clothes and haircuts can be financially overwhelming. He says, "The staff at Bios are amazing people who care about the people we support and most of them know the state doesn't give much money and they still do it, even though the pay is not always great." Sam believes our employees deserve to receive the same kindness and support they give. He goes on to say, "I believe love is the key to our success in life and I wish more people realized it. So, I want to show my thanks to all the people who care for the people we support and I hope their love and kindness can spread in abundance to others."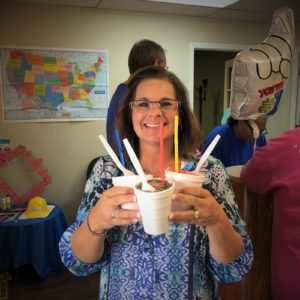 The Sapulpa-Tulsa team wants their employees' kids to start the year right by having the supplies they need to perform well and start the year with a positive attitude. To kick things off, the team planned a fun event with decorations, a photo booth with Big Bird, popcorn and snow cones to enjoy as they picked up their backpacks and got their haircuts. In the afternoon of Wednesday, August 8, the Sapulpa-Tulsa office was packed with more than 60 kiddos participating in the fun back to school event.
Alisha and her team were giddy as they set-up and decorated for the event, paying attention to the smallest details. Fun decorations were everywhere; they had glowing balloons and even a little kid-sized table for the pre-Ks who would be joining them. The Bios managers and executives were all smiles as they enjoyed the time with Bios employees and their kids. Executive Director Shannon Holcomb says "I am that proud we all came together to do something beneficial for our employees. "The team went the extra mile to make it special for the kids. Fun and value were the words of the day!"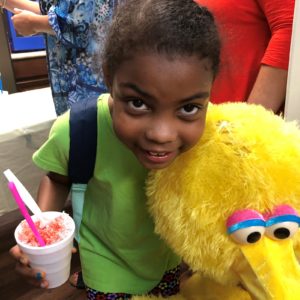 The general consensus was that it felt really good to be able to do something for our DSP staff who give so much of themselves day in and day out to support the people we serve. We are grateful for our DSPs and this Sapulpa-Tulsa team for helping kids start their school year off right. This is another example of how Bios contributes to and gives back to communities.
More opportunities to honor our employees are coming soon. Direct Support Professional week is the second week of September. Watch Facebook and your SCOMMs for fun events to be held at local Bios offices!